This is a Sponsored post written by me on behalf of Honeysuckle White® and Shady Brook Farms® for SocialSpark. All opinions are 100% mine.


Ah, Grilling Season…one of my favorite times a year. Not only do you get to enjoy great weather and amazing fresh food, but let's face it ladies, it's the one time of year when the men take over at least part of dinner.
With July 4th upon us, most of us having grilling on our minds. I thought I'd share with you one of my favorite new burgers – A Quinoa Turkey Burger with Sun Dried Tomato Aioli.
Though healthier than your average burger, this burger is moist and packed with flavor, just like any burger should be.


As a protein source for summer grilling, I like Turkey for a lot of reasons, the chief of which is health. Not only does turkey have more protein than beef, it has fewer calories than chicken and less fat than pork. **Source: USDA National Nutrient Database for Standard Reference, Release 25. Update 2012.**
Plus if you aren't in the mood for a burger you can always go with brats or tenderloins.


To make things easier, Honeysuckle White and Shady Brook Farms turkey products have created an amazing Grilling with Friend Facebook app and sweeps. This allows you to plan every detail of your next grill-out with tools like the menu builder that allows guest to sign-up to bring food, beverages and extras.

Honeysuckle White and Shady Brook Farms have a new line of Turkey Burgers that make grilling out even easier. They are easy to prepare, bursting with flavor and can go from freezer to table in 20 minutes. The six varieties include Savory Seasoned, Ready to Season, Cheddar Jalapeño, and Swiss Bacon & Onion. They work both on the skillet and the grill. Lucky for me they are also gluten free!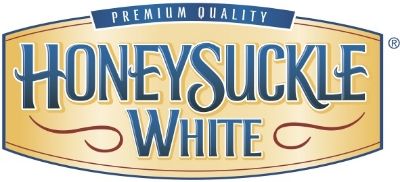 I love that they have 58%-76% less fat than regular ground beef and are approved by the USDA as a good source of protein.
**USDA National Nutrient Database for Standard Reference, Release 25. Update 2012. Product contains 8-14 g. of fat per serving as compared to 34 g. fat in Regular Ground Beef per 4 oz. raw serving**
For tips and recipes, visit Turkify.com
Ingredients
1 cup cooked quinoa
1 pound ground turkey breast
2 teaspoons Worcestershire
1 tablespoon Dijon Mustard
1 tablespoon horseradish
1 teaspoon sea salt
½ teaspoon fresh ground black pepper
Sun Dried Tomato Aioli
½ cup 2% Greek Yogurt or Homemade Mayo
3 tablespoons sun dried tomatoes, rehydrated (oil packed works as well)
2 teaspoons apple cider vinegar
1 teaspoon minced garlic
¼ teaspoon fresh ground pepper
Instructions
Heat grill to high.
In a large bowl combine quinoa, turkey breast, worcestershire, mustard, horseradish, sea salt and pepper. Mix with your hands until well combined.
Form into four patties. Grill 4 to 5 minutes per side.
When cooking, please ensure that the turkey reaches an internal temperature of 165 degrees Fahrenheit.
For Aioli
In a small bowl whisk together yogurt or mayo, sun dried tomatoes, apple cider vinegar, garlic and ground pepper. Refrigerated until ready to serve.
Serve with Sun Dried Tomato Aioli and desired fixings.
Notes
Servings 4, Calories 178, Fat 2g, Carbohydrates 9.9g, Protein 30.5g, Cholesterol 71mg, Sodium 608mg, Potassium 93mg, Fiber 1.3g, Sugars .8g Aioli With Greek Yogurt: Servings 4, Calories 33, Fat 1.1g, Carbohydrates 2.7g, Protein 3.2g, Cholesterol 3mg, Sodium 27mg, Potassium 112mg With Mayo: Servings 4, Calories 134, Fat 12.9g, Carbohydrates 3.6g, Protein .3g, Cholesterol 10mg, Sodium 257mg, Potassium 87mg